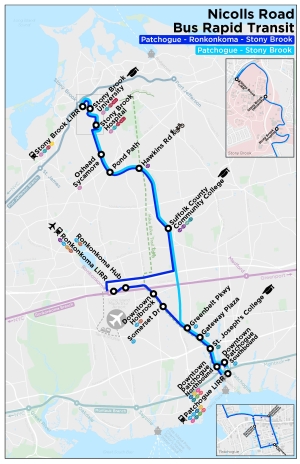 Overview
A multimodal Nicolls Road corridor will provide connectivity between points of interest in the Innovation Zone, alleviate traffic congestion, and offer healthy travel alternatives to automobile usage.
Serving as the foundation of the Long Island Innovation Zone, the Nicolls Road BRT will service transportation, research and educational assets between Stony Brook and Patchogue that may include:
Stony Brook LIRR Station
Stony Brook University and Hospital
Suffolk County Community College's Ammerman Campus
Ronkonkoma LIRR Station
Long Island MacArthur Airport
St. Joseph's College
Downtown Patchogue
Patchogue Village LIRR Station with access to the Fire Island Ferries
The Nicolls Road Corridor includes a High Occupancy Vehicle (HOV) component, proposed to alleviate traffic through the most congested portions of Nicolls Road. The new BRT/ HOV dedicated lane is proposed between Patchogue-Holbrook Road (CR-19) and Mark Tree Road. The proposed hike-bike trail component provides commuters with an additional transportation option that supports healthy lifestyle choices. The majority of the trail is proposed to be located off-road within the LIPA right of way, parallel to Nicolls Road. The northern portion of the trail connects to the Setauket Greenway Trail and extends south along the LIPA right of way to Patchogue-Holbrook Road where the trail will be on-road along CR-19 and other local roads until reaching the Fire Island Ferry Terminal in Patchogue.
Please click to view the Nicolls Road Fact Sheet
Nicolls Road BRT Timeline

---
Additional Nicolls Road BRT Resources
Learn more about the BRT Nicolls Road Alternative Analysis Final Report
Frequently Asked Questions (FAQs)
View the 4/2/2019 Public Information Meeting Materials
---
Connect With Us
Click here to sign up for email updates about upcoming Public Information Meetings