LONG ISLAND RAIL ROAD (LIRR)
The Long Island Rail Road is the nation's largest commuter rail by ridership, shuttling an average of 337,800 passengers every weekday between Long Island, Queens, Brooklyn and Manhattan.
The LIRR is in the midst of several major improvement and expansion projects, which include:
Double Track – 12.6 miles of additional LIRR track between Farmingdale and Ronkonkoma that will ease congestion and promote both traditional and reverse commuting.
Third Track – an additional track from Floral Park to Hicksville will reduce delays due to service issues, promote a reverse commute and spur economic activity.
Electrification – extending electrification of three LIRR lines further east for faster, more reliable, uninterrupted peak and off-peak travel.
---
SUFFOLK COUNTY TRANSIT (SCT)

SCT Overview
The Suffolk County Department of Public Works (DPW) operates Suffolk County Transit (SCT) with a network of 45 bus routes, including 2 routes operating during summer only, providing mobility and connectivity to a population of 1.5 million residents spread across an area of 912 square miles. In 2017 SCT operated over 15.8 million miles, serving 4.28 million passengers on its fixed route transit and about 700,000 thousand passengers on Suffolk County Accessible Transportation (SCAT). Designed to increase mobility in Suffolk County, SCAT has been providing safe, reliable, curb-to-curb service to individuals with disabilities since 1994.
Reimagine Transit: Suffolk County Mobility Implementation Plan
The Reimagine Transit initiative, led by the Suffolk County Economic Development and Planning Department in partnership with the Department of Public Works, aims to redesign Suffolk County's fixed-route bus network and identify opportunities for the use of new mobility tools, like on-demand transit services. This initiative is a chance to rethink the entire network of routes and ensure that the County is making the best use of its resources and aligning its transit investments with community goals and priorities. More information on this initiative including project goals and timeline, and opportunities to get involved can be found here.
SCT Trip Planning & Ticketing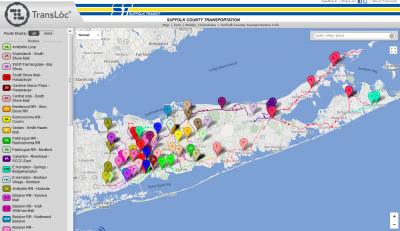 Thanks to recent technology-related improvements to our system, including the addition of 70 new buses to the fleet and on-going installation of Automated Vehicle Locator (AVL) on standard and paratransit buses, it is now easier than ever to use Suffolk County Transit.
Riders can plan their trip via the TransLoc Rider app or the web-based trip planner, the text version of the app or the on the Moovit app or web-based trip planner. These apps allow customers to locate their bus on a map in real-time, providing information public transit users want and need in order to get around using Suffolk County Transit. The software includes next bus arrival predictions and can alert customers when their selected bus is near, allowing them to head to their stop when it's most convenient for them. A text version of TransLoc is also available.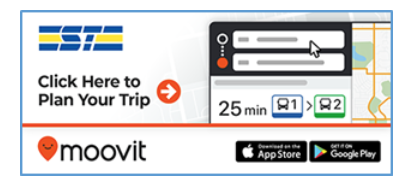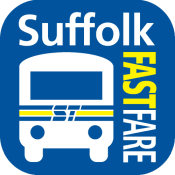 This customer-friendly technology has been customized to meet our local needs, and we are eager to share it with more Suffolk County residents. Customers can download either app from the Google Play Store and from the iTunes Store.
The SCT suite of technologies also includes Suffolk FastFare. This new mobile ticketing app allows users to go cashless and easily purchase Suffolk County Transit tickets on their smartphones anytime, anywhere and then display them on screen. Passengers using Suffolk FastFare can pay for tickets using a credit or debit card, or via digital payment services such as Masterpass and Apple Pay.
Suffolk County Mobility Study: Strategies for Suburban Transportation
Suffolk County Economic Development and Planning and Department of Public Works jointly undertook the Suffolk County Mobility Study to understand the trip patterns within the County, and evaluate multiple mobility modes including optimized transit, Transportation Network Companies (TNCs), vanpooling, microtransit and bike share for their suitability to help the County achieve system efficiencies while enhancing its mobility options and user experience. The study further outlines strategies and actions for improving mobility to ensure Suffolk County is well positioned to support existing riders, attract new riders, enhance economic competitiveness, support vibrant communities, leverage investments, and provide a foundation for sustainable growth in the County while reducing reliance on personal vehicles. The final report is available in the reports section.
---
HIKE/BIKE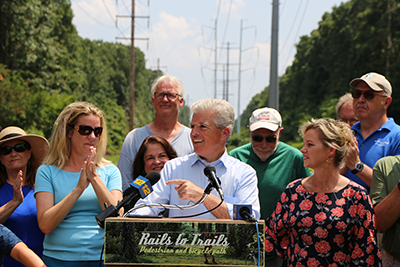 A key objective of Connect Long Island is improving regional mobility and access by providing more transportation choices and expanding the reach of our existing transit system. To that end, Suffolk County is in the midst of developing a County-wide Hike and Bike Network Master Plan to foster more walkable and bike-able communities, connecting popular destinations, historical sites, downtowns and transit hubs across the county.
Progress on developing such a network has already begun. In 2018 the County began construction of the ten-mile Port Jefferson to Wading River Hike-Bike Trail, which uses public utility rights-of-way to develop a comfortable, safe bikeway and pedestrian path along the North Shore. As part of the Nicolls Road Bus Rapid Transit planning, the County is designing an extensive hiking and biking network along the Corridor to not only connect Suffolk County's existing green spaces, work places, downtowns and education centers, but also serve as an alternate option for commuters wishing to travel by bike. The County's Hike/Bike Master Plan will leverage this work, planning for a network of interconnected hike and bike infrastructure that will make it safe, easy and enjoyable to travel to Suffolk County's many world-class destinations.
Suffolk County completed its Hike and Bike Master Plan in March of 2020. This plan is the result of robust community and stakeholder engagement and thorough consideration of the County's existing and planned trail assets. The plan's vision and recommendations were developed based on public input received through an online public input tool and multiple pop-up events; input provided by the Hike-Bike Technical Advisory Committee which includes town planners, hike and bike enthusiasts and advocates, County DPW and parks representatives and local planning organizations; and gap analysis conducted by the project consultant. The network will improve quality of life for residents, reduce the reliance on automobiles, promote public health and boost economic activity.
---
REGIONAL BIKE SHARE PROGRAM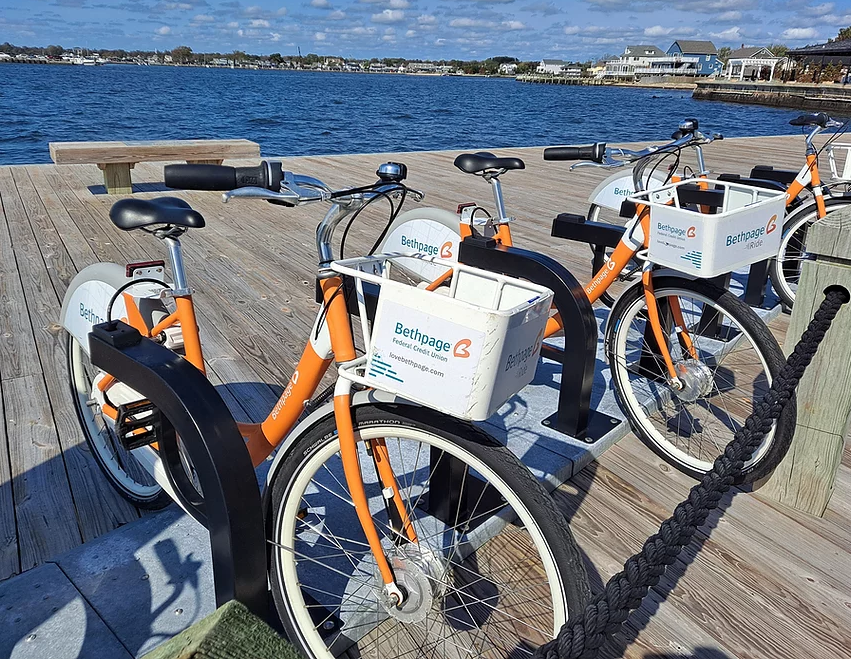 In September 2019, a first of its kind regional bike-sharing program on Long Island, Bethpage Ride, was launched. With the continued support of Bethpage Federal Credit Union and the county's bike share operator, Pedal Share, two hundred bikes are available from April to November at the following forty stations throughout our communities.
Babylon:
Babylon LIRR
Babylon Village Pool
Argyle Park/ Carlston Place
Locust Avenue
Park Avenue
Totten Place
Patchogue:
Patchogue LIRR
Blue Point Brewery
Patchogue Theatre Alley
Roe Walkway
Davis Park Ferry
Mascot Dock
Hampton Bays:
Good Ground Park
Downtown Hampton Bays
Tiana Beach
Ponquogue Beach
Southampton Village:
Agawam Park
Southampton Train Station
Gin Lane Beach
Coopers Beach
A Butler's Manor
Southampton Town Hall
Huntington:
Heckscher Park
New Street Parking Lot
Gerard Street Parking Lot
Mill Dam Park
Riverhead:
Veterans Memorial Park
Riverfront Park
Riverhead LIRR
Riverhead Town Hall
River to Roots Garden
Lindenhurst:
Firemans Park
Gazebo
Lindenhurst Train Station
Town of Babylon:
Gilgo Beach
Cedar Beach Marina
Southampton Town:
Bridgehampton LIRR
Bridgehampton Municipal Lot
Long Beach (Noyac)
Sagg Main Beach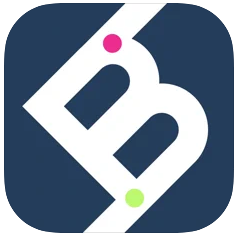 The system includes modern technology features that can be accessed through smartphone devices, making it simple and accessible. Users can download the Bloom app and will either be able to pay per ride or buy a membership.
Download the BLOOM Bike and Scooter Sharing app at Google Play and the Mac App Store
The Regional Bike-Share program complements County Executive Bellone's Connect Long Island Plan – a regional transportation and development initiative that promotes sustainable long-term economic growth in Suffolk County.
This program will boost the local economy by increasing tourism, extending the reach of existing transit networks, and will provide the critical last-mile connection between transportation hubs, popular destinations, and our vibrant downtown areas.
The goals of this Regional Bike-Share program include decreasing the use of the automobile, encouraging a more active, healthier lifestyle by providing bicycles for intermittent recreational use, and establishing a stronger bicycle culture in Suffolk County, complete with new bike lanes and safe infrastructure.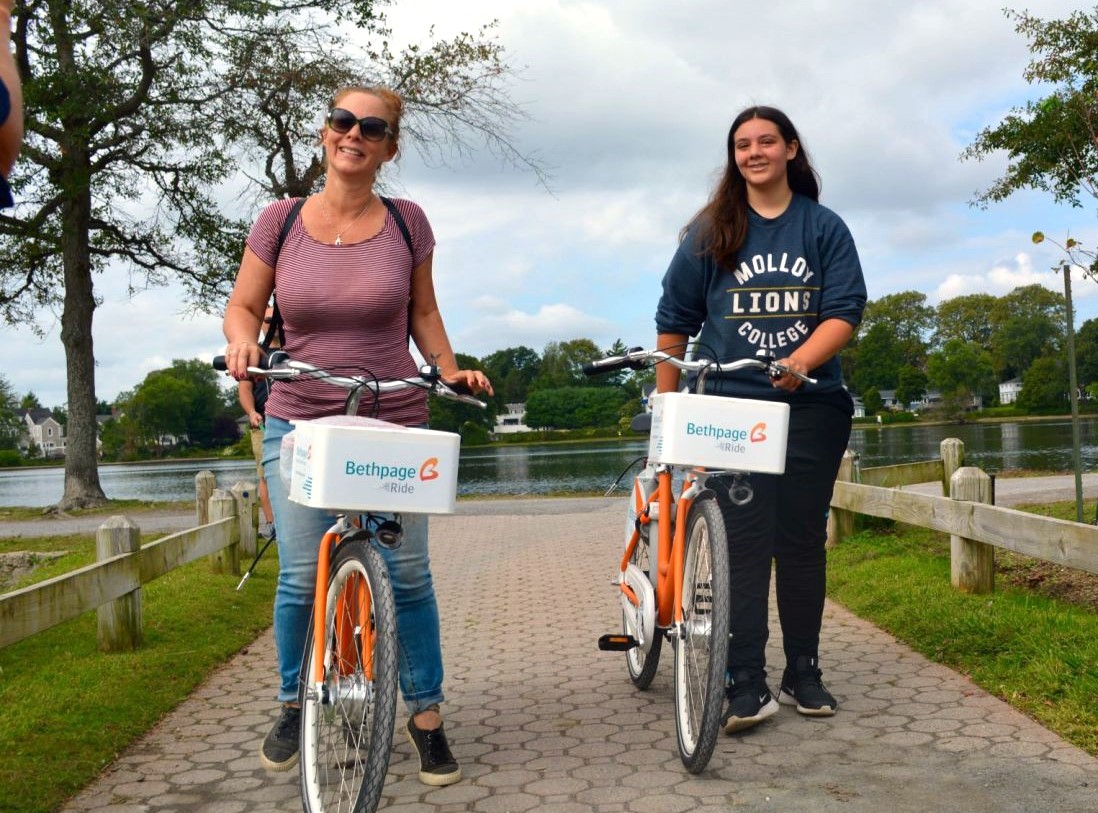 If you are interested in sponsoring a dock in your area or bringing bike share to your community, contact the Suffolk County Department of Economic Development and Planning at 631-853-4800.
For full information, please visit: https://www.ridepedalshare.com/