LONG ISLAND RAIL ROAD (LIRR)
The Long Island Rail Road is the nation's largest commuter rail by ridership, shuttling an average of 337,800 passengers every weekday between Long Island, Queens, Brooklyn and Manhattan.
The LIRR is in the midst of several major improvement and expansion projects, which include:
Double Track – 12.6 miles of additional LIRR track between Farmingdale and Ronkonkoma that will ease congestion and promote both traditional and reverse commuting.
Third Track – an additional track from Floral Park to Hicksville will reduce delays due to service issues, promote a reverse commute and spur economic activity.
Electrification – extending electrification of three LIRR lines further east for faster, more reliable, uninterrupted peak and off-peak travel.
---
SUFFOLK COUNTY TRANSIT (SCT)

SCT Overview
The Suffolk County Department of Public Works (DPW) operates Suffolk County Transit (SCT) with a network of 45 bus routes, including 2 routes operating during summer only, providing mobility and connectivity to a population of 1.5 million residents spread across an area of 912 square miles. In 2017 SCT operated over 15.8 million miles, serving 4.28 million passengers on its fixed route transit and about 700,000 thousand passengers on Suffolk County Accessible Transportation (SCAT). Designed to increase mobility in Suffolk County, SCAT has been providing safe, reliable, curb-to-curb service to individuals with disabilities since 1994.
SCT Technology, TransLoc, FastFare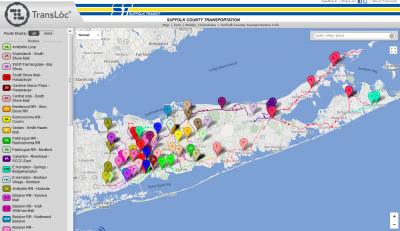 Suffolk County Transit has recently made significant technology-related transit improvements that include the addition of 70 new buses to the fleet and on-going installation of Automated Vehicle Locator (AVL) on standard and paratransit buses.
The TransLoc Rider app launched in fall 2017 with immediate adoption by the public. This app allows customers to locate their bus on a map in real-time, providing information public transit users want and need in order to get around using Suffolk County Transit. The handheld app includes next bus arrival predictions and can be programmed to alert customers when their selected bus is within 5, 10, or 15 minutes from their stop, allowing them to head to their stop when it's most convenient for them. There is also a webpage version, accessible at https://sct.transloc.com/ and a text version.
The app was created by TransLoc, a software company powering 170 bus tracking applications for municipalities, universities and large bus fleet providers nationwide including Disney World, GoTriangle of the Research Triangle region of North Carolina, Pace Bus in suburban Chicago, NYU, and the Brooklyn Navy Yard.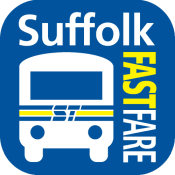 This customer-friendly technology has been customized to meet our local needs, and we are eager to share it with more Suffolk County residents. Folks can download the app from the Google Play Store and from the iTunes Store.
The most recent addition to the SCT suite of technologies is Suffolk FastFare. This new mobile ticketing app allows users to go cashless and easily purchase Suffolk County Transit tickets on their smartphones anytime, anywhere and then display them on screen. Passengers using Suffolk FastFare can pay for tickets using a credit or debit card, or via digital payment services such as Masterpass and Apple Pay.
This technology equips the County to start collecting real-time data to drive future transit development as we work to make public transportation a more viable option and attract even more users to the system.
---
HIKE/BIKE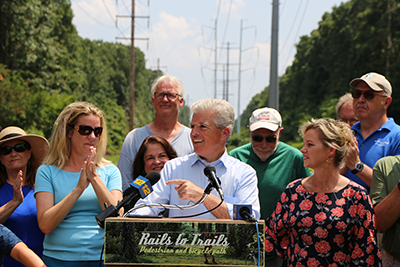 A key objective of Connect Long Island is improving regional mobility and access by providing more transportation choices and expanding the reach of our existing transit system. To that end, Suffolk County is in the midst of developing a County-wide Hike and Bike Network Master Plan to foster more walkable and bike-able communities, connecting popular destinations, historical sites, downtowns and transit hubs across the county. The network will improve quality of life for residents, reduce the reliance on automobiles, promote public health and boost economic activity.
Progress on developing such a network has already begun. In 2018 the County began construction of the ten-mile Port Jefferson to Wading River Hike-Bike Trail, which uses public utility rights-of-way to develop a comfortable, safe bikeway and pedestrian path along the North Shore. As part of the Nicolls Road Bus Rapid Transit planning, the County is designing an extensive hiking and biking network along the Corridor to not only connect Suffolk County's existing green spaces, work places, downtowns and education centers, but also serve as an alternate option for commuters wishing to travel by bike. The County's Hike/Bike Master Plan will leverage this work, planning for a network of interconnected hike and bike infrastructure that will make it safe, easy and enjoyable to travel to Suffolk County's many world-class destinations.
The County is currently undertaking the development of a county-wide Hike and Bike Network Master Plan, which will include mapping the existing hike / bike trail network, identifying major gaps in that network, and developing a plan to prioritize and fill those gaps. Let us know what you think. Click HERE.
---
REGIONAL BIKE SHARE PROGRAM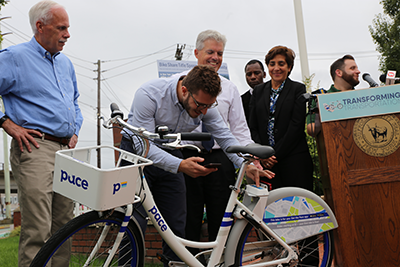 A regional bike share program for Suffolk County will not only reduce congestion and improve air quality, but it will help solve the critical problem of providing door-to-door transportation when using public transit – "the last mile connection" – allowing residents and visitors to easily access our parks, waterfronts, and other recreational assets.
In May 2018, Suffolk County selected Zagster, Inc., a Boston company, to establish and operate a countywide bike-share program that will allow users to rent or drop off a bicycle at multiple locations through the use of a mobile app. The arrangement comes at no cost to Suffolk and implementation will be fully financed by Zagster.
Zagster's program, known as Pace, is already operating more than 250 programs in the United States. The program allows customers to use the app to locate and rent a bicycle, paying a fee that will depend on how long they use the bike. As with New York City's CitiBike program, users will be able to pick up and drop off bikes at a number of Pace docking stations throughout the County. Zagster's program will also allow users to lock their bikes at other locations, including public bicycle racks.