Overview
A multimodal Route 110 will provide connectivity between destinations along "Long Island's Main Street", alleviate traffic congestion, offer healthy travel alternatives to automobile use, and ensure sustainable economic growth in the future. Serving as the foundation of the Long Island "Jobs Corridor", the Route 110 BRT will service downtown, employment, transportation, education, research, and shopping assets between the Village of Amityville and Huntington that may include:
Village of Huntington
Huntington LIRR Station
Huntington Station
Walt Whitman Shops
Melville Mall
High-tech and other employers along NY Route 110 between the Southern and Northern State Parkways
Farmingdale State College
Future Republic LIRR Train Station and East Farmingdale TOD
Farmingdale LIRR Station
Republic Airport and Molloy College
Amityville LIRR Station
Amityville Village
The Route 110 corridor includes a shoulder-running business access and transit (BAT) lane component, proposed to speed up the travel of buses and facilitate boarding and alighting at stations, while preserving access to businesses along the corridor. The shoulder running BAT lane is currently proposed in four segments, totaling 6.5 miles, between Sunrise Highway and the Walt Whitman Shops.
The deployment of Transit Signal Priority (TSP) is also expected at several intersections throughout the corridor, which will help speed up the BRT and reduce delays. The BRT will also be accompanied by the development of attractive, modern bus stations with several rider amenities.
There will also be a pedestrian and micromobility (bikes, scooters, roller blades, skateboards, etc.) route component to the Route 110 Corridor BRT project. Improvements to safety and circulation, particularly in the area surrounding proposed stations and areas demonstrating pedestrian travel lacking appropriate facilities, will be the focus of the pedestrian and micromobility component."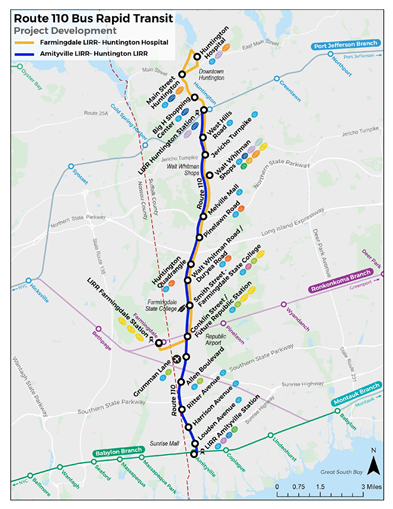 Route 110 BRT Timeline

---
Additional Route 110 BRT Resources
Alternatives Development - pg. VII, pg. 46
Budget - pg. 110
---
Connect With Us