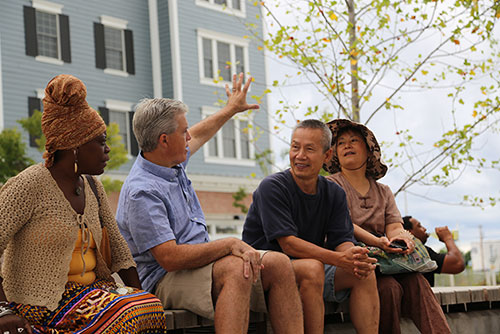 Connect Long Island Investment Impact
Over $6B in projects. More than 19,000 units delivered, under construction or in planning, including over 1,000 workforce housing units delivered or under construction.
---
2020
I-Zone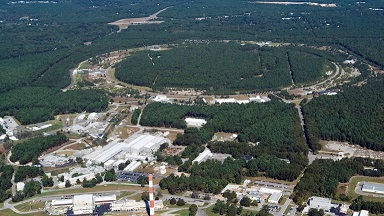 Brookhaven Lab chosen as site for multibillion-dollar collider. The collider costing $1.6 billion to $2.6 billion, and taking about a decade to complete, will be the first of its kind in the United States. It is expected to create about 4,000 construction jobs, retain 1,000 existing jobs at the lab and generate billions of dollars in economic activity for Long Island. The state committed $165 million — including $65 million for Stony Brook University, which co-manages the lab — worth of infrastructure and data upgrades to boost Brookhaven's chances of landing the collider. Long Island Association chief executive Kevin Law said the announcement was "terrific news for Long Island and will continue our region's efforts to develop a 21st-century innovation economy and a research corridor on Long Island.
---
Economic Development
Applications were made available for the 2020 Suffolk County Downtown Revitalization Grants Program. A total of $500,000 is available for Long Island organizations that represent a downtown area and who partner with their local municipality. Since 1997, Suffolk County has awarded $12 million through this initiative. In 2019, 11 projects were funded by Downtown Revitalization Grants.
---
2019
TOD
Milestone completion announced of Alston Station Square, the first two buildings at the state-of-the-art Ronkonkoma Hub, a project that is expected to create 1,450 residential homes and over 600,000 square feet of commercial space -- plus 10,000 construction jobs and 2,500 permanent jobs. The two residential buildings of Alston Square contain 245 units and are the first to open at the $700 million, 53-acre project site.
---
Transportation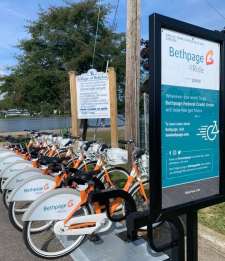 BethpageRide, the new Suffolk County bike share program, and the first of its kind on Long Island, kicked off and is now available at 17 locations throughout the Village of Babylon, Village of Patchogue and Hampton Bays–and soon to be in Riverhead. Users can download the Pace Bike Share app and pay per ride or buy a membership.
Economic Development

The Suffolk County IDA joined BOSS Facility Services at the ribbon cutting for their new headquarters in Hauppauge and was pleased to have played a role in making their move possible. The new facility has the national facility maintenance, management and construction company nearly quadrupling its space with plans to double its workforce over the next several years.
Gansett Meadow, a $24 million workforce housing development, broke ground in the Town of East Hampton on a vacant site owned by the East Hampton Housing Authority. The development complex consists of seven, two-story buildings offering a mix of one- to four-bedroom apartments and is conveniently located within one mile of the LIRR's East Hampton station.
Suffolk County invested over one million dollars in infrastructure funding to help get this project off the ground, and partnered with New York State Homes and Community Renewal and the Town of East Hampton to secure additional state and local funding.
---
Suffolk County recently closed on two affordable housing projects on the East End. Gansett Meadow will be located in Amagansett, and the second project, Vineyard View, will be located in Greenport. In total, the county contributed over $1.8 million to both projects which complement County Executive Bellone's Connect Long Island Initiative. Under the leadership of County Executive Bellone and the Suffolk County Legislature, between 2012 to 2019 the County has moved forward on delivering 315 affordable housing units – over four times the amount of units delivered in the same area in the previous nine years.
Passage of the Kings Park Alienation Bill will promote new investment and economic growth in the Kings Park Business District by connecting the district to sewers. The lack of sewer service was identified as the primary issue facing the area. Governor Cuomo, as part of the 2017-18 budget, provided the necessary $20 million in state funding to make this a reality for the Kings Park community.
Suffolk County Executive Bellone announced $500,000 available in Downtown Revitalization Grants. These funds are accessible for partial funding of capital projects located in, or adjacent to, downtown areas on municipally-owned property. Among the various projects that are eligible for grants are public parking facilities, pedestrian walkways, street lighting, public restrooms, disabled accessibility, renovations to existing structures, and cultural facilities.
---
2018
I-Zone
Stony Brook University Hospital is completing a $423 million expansion and update of its three-building hospital campus.
Stony Brook University's $60 million Innovation and Discovery Center is under construction and is expected to open in July 2019 at the Research and Development Park, and the $75 million Institute for Discovery and Innovation in Medicine & Engineering is expected to open in December 2021
---
TOD
Suffolk County is investing more than $30 million in 26 multi-family housing developments, including Transit-Oriented Developments, that will produce more than 19,000 units with a total private investment of over $6 billion as part of County Executive Bellone's Connect Long Island initiative.
Governing Magazine profiled the $600 million Wyandanch Rising development LIRR Station as a national model for suburban revitalization.
Conifer Realty, LLC and Community Development Corporation of Long Island marked the completion of construction of their Peconic Crossing 45-unit, high quality, affordable housing apartments on Main Street in Downtown Riverhead with a ribbon cutting ceremony.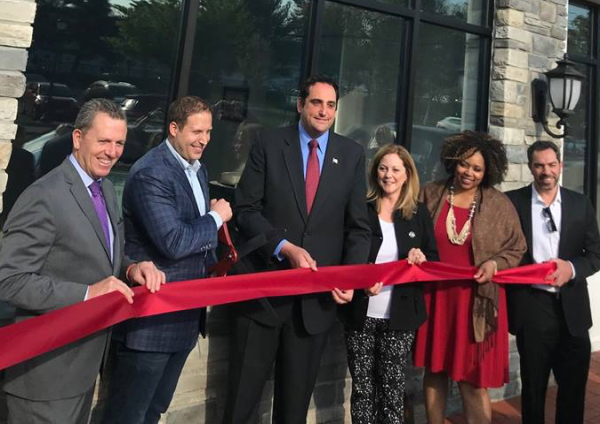 Huntington Station Northridge Development
Master developer Renaissance Downtowns held a ribbon cutting ceremony for its mixed-use, Huntington Station Northridge development which is part of a comprehensive revitalization of Huntington Station. Northridge includes 16 apartments and 6,500 square feet of retail space.
Construction has begun on Gateway Plaza, the second building in the Huntington revitalization effort, and will include 66 rental apartments with 13,500 SF of retail space. This $22 million private investment in Huntington Station will generate $8.5 million in economic activity and ultimately 40+ permanent jobs, not including the 50+ construction jobs during building. Both are SCIDA projects.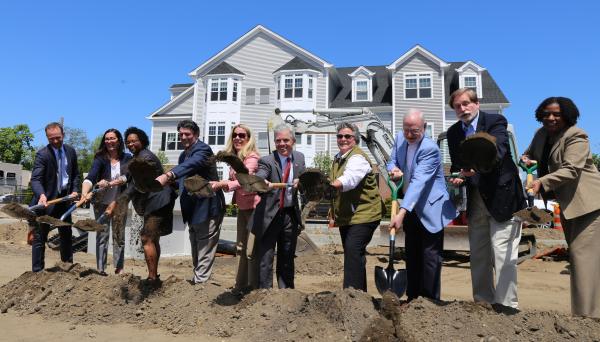 Port Jefferson Uptown Funk Groundbreaking
Suffolk County Executive Steve Bellone held a groundbreaking ceremony to highlight the construction progress of the Upper Port Jefferson revitalization project, commonly known as Uptown Funk. Suffolk County and the Village of Port Jefferson partnered together on Phase One of the downtown economic development project to help fund infrastructure improvements that will leverage additional private sector investment in new rental housing adjacent to the Port Jefferson LIRR station.
The Suffolk County Alliance of Chambers sponsored "Creating: The Downtown Experience" a creative placemaking symposium at the Cinema Arts Centre in Huntington. The Suffolk County Office of Cultural Affairs gathered an accomplished panel of experts who provided attendees with the insights and tools necessary to assist communities in building a downtown experience that stimulates the economy, drives innovation, welcomes cultural diversity and fosters civic engagement.
The Town of Southampton, The Southampton Housing Authority and Georgica Green Ventures, LLC broke ground on Speonk Commons, a thirty-eight unit affordable rental housing project on North Phillips Avenue in Speonk.
---
Transportation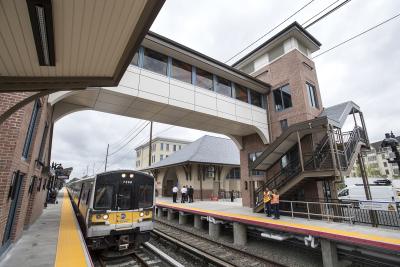 The New Wyandanch LIRR Station
Lieutenant Governor Kathy Hochul joined LIRR President Phillip Eng and MTA Chief Development Officer Janno Lieber to officially open the new Wyandanch Station. As part of the Double Track Project, the LIRR built two new 12-car-long platforms that include a snow melt system, a pedestrian overpass with elevators, new stairs, new canopies and new platform shelters. The interior of the station features new Terrazzo tile floors, a wood-paneled ceiling and chandeliers. The new ADA-accessible station provides the 4,200 daily LIRR customers who use the station with a full slate of amenities, including benches, bike racks, digital signs, MTA Help Points, USB charging stations and free Wi-Fi.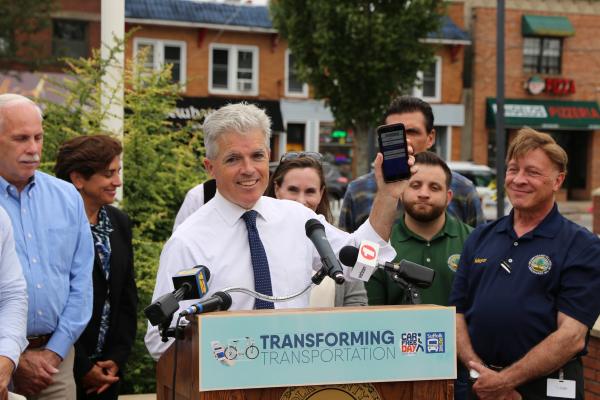 Suffolk FastFare Mobile Ticket App
County Executive Bellone unveiled Suffolk FastFare, a mobile payment app that allows users to buy Suffolk County Transit tickets, including bundles, and also track bus arrival times in real time by using a link to the TransLoc Rider app which was launched last year. FastFare also has links to other transportation schedules, such as the Long Island Rail Road. The free app was introduced during a news conference in Lindenhurst Village on the county's sixth annual Car Free Day, an international event that encourages residents to leave their cars at home for the day.
The $431 million Double Track Project was completed more than a year ahead of schedule and is a 21st century solution for crowd reduction, delay prevention and service improvements. 13 miles of a brand-new second track between Farmingdale and Ronkonkoma gives this branch the capacity possibilities Suffolk County needs to grow, allowing transit-oriented development to function optimally and encourage smart growth near train stations.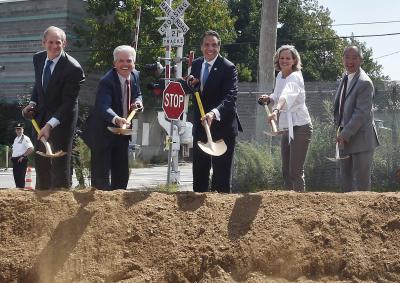 Third Track Ground Breaking
Today, Governor Cuomo, Suffolk County Executive Steve Bellone, Janno Lieber, Metropolitan Transportation Authority Chief Development Officer, and LIRR President Philip Eng held a ceremonial groundbreaking for the historic LIRR "Third Track" Project. The LIRR Expansion project includes 50 Long Island Rail Road projects to modernize 9.8 miles along the congested Main Line between Floral Park and Hicksville. The $2.6 billion project, which is expected to be operational by the end of 2022, will improve the lives of commuters and Long Island residents alike.
Metropolitan Transportation Authority's $11.1 billion East Side Access project – one of the largest transportation infrastructure projects currently underway in the United States – provides new, direct LIRR service into a new concourse below Grand Central Terminal on Manhattan's East Side, reducing commuting times into Manhattan by up to 40 minutes a day.
---
Economic Development

The Suffolk IDA approved a transaction to assist Contract Pharmacal Corp. (CPC) in a significant facility acquisition and expansion project. CPC's will include acquiring a 17,500 sf manufacturing building in Hauppauge and constructing a 140,000 square-foot extension which will connect it with one of the company's current buildings. The project will increase the number of CPC employees from 1,385 to 1,513.
Contract Pharmacal is a family-owned company that develops, manufactures and packages pharmaceuticals, over-the-counter drugs and dietary supplements. They moved to Long Island in 1975 and had 127 employees at that time. CPC currently maintains 10 facilities in Hauppauge, several of which were acquired or renovated with the assistance of the Suffolk County Industrial Development Agency.
As part of a Suffolk County Industrial Development Agency (SCIDA) project, County-owned land at Gabreski Airport in the "Hampton Business District" in Westhampton is being developed to meet demand for quality light industrial and R&D office space. When completed, this $43 million, nine building corporate center will total 440,000 square feet including a 145-room hotel and is expected to employ 1,100 people. The first building of the project was completed in 2016, the second in 2018, and the third building is expected to be completed in 2019.
In 2017, Peconic Bay Medical Center in Riverhead began a $60 million expansion and a $53 million expansion of Huntington Hospital's emergency room was completed.
11 organizations have been approved to receive $500,000 in total funding for Round 16 of the Suffolk County Downtown Revitalization Grants Program. The grants leverage over $545,400 for a total investment of just under $1.2 million.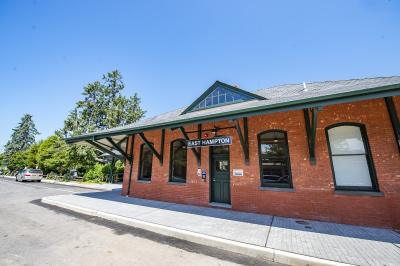 East Hampton LIRR Station
The Hampton Business District Topping Off Ceremony in Westhampton Beach marked the completion of Rechler Equity Partners third building of Phase 1. The Hampton Business District is a 50 acre mixed-use cutting edge business park accommodating office, warehouse, manufacturing, film, showroom, lab and medical spaces. A 145 room hotel will also be built on the site.
Estee Lauder chose a Melville site for its new $14.5M engineering center. The cosmetics giant picked the Long Island location, which is adjacent to its current campus, over sites in Pennsylvania and New Jersey. Manhattan-based Estee Lauder employs more than 2,500 people in Suffolk and will hire an additional 31 for the engineering center. A SCIDA project.
Family Service League's groundbreaking of FSL's Fay J. Lindner Health & Wellness Center on the Thomas and Judith Iovino Campus in Bay Shore is a Suffolk County Economic Development Corp. project receiving $8.5M in tax-free bonds for the Bayshore facility and other FSL facilities.
The Rechlers memorialized the completion of a 12-year comprehensive approval process, and the commencement of construction that will restore the current site to its original significance, with a groundbreaking ceremony for the Canoe Place Inn and Hampton Boathouses in Hampton Bays.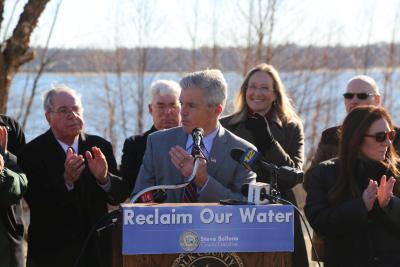 County Executive Bellone's Reclaim Our Water Initiative
The Hauppauge Industrial Park is the largest industrial park east of the Mississippi and 2nd largest in the nation. It is home to about 1,350 companies that employ an estimated 55,000 people who give approximately $164 million in revenues to the local government based on estimated combined employee income equal to $2.46 billion.
Suffolk County established an $80 million Sewer Expansion Project in the Park to create and support increased capacity for growth to the existing sewer system to ensure every business in the park has access to the sewage capacity it needs. The Sewer District No. 18 Expansion Project began in 2011. The first two phases of the project were completed in 2014. As a result, the Suffolk County Industrial Development Agency has assisted 47 companies' relocation, expansion or construction in the HIP – that's more than half of the total SCIDA projects since 2014. Three more phases of this project remain and will complete in 2020.
---
2017
I-Zone
The $650 million Ronkonkoma Hub mixed-use project broke ground and when fully built out will deliver a true walkable downtown and create 18,000 jobs.
New York State to provide $120 million for state-of-the-art LIRR enhancements to 16 stations and to improve system connectivity with a new terminal at MacArthur Airport and a new stop at Brookhaven National Laboratory.
TOD

The Community Development Corporation of Long Island and Conifer Realty cut the ribbon on a $33.5 million transit-oriented development in Copiague. The two-building Copiague Commons complex is a mix of 56 one- and 34 two-bedroom apartments for families with a variety of incomes ranging from 60% to 100% of the area median income.
$40 million from New York State to build sewers will support economic growth and environmental sustainability in Smithtown and Kings Park.
Transportation
Suffolk County received a $250,000 grant through the New York Metropolitan Transportation Council to help fund a Countywide Hike and Bike Network Master Plan.
Economic Development
Between 2012 – 2017, the Suffolk County IDA has closed on 95 projects. IDA incentives for those projects have collectively leveraged more than $850 million in private capital investment and the creation or retention of nearly 14,000 jobs with a combined annual payroll of approximately $800 million.
The Suffolk County Industrial Development Agency and the Regional Plan Association publish "Transit-Supported Economic Development in Suffolk County - Outcomes and Lessons Learned from Initial Projects". In line with its mission and approach, in 2014, the SCIDA engaged the Regional Plan Association (RPA) to collaborate with self-selecting local municipalities to carefully consider and address economic development opportunities in downtowns and transit corridors with the aim of spurring sustainable economic growth in Suffolk County. Since that time, RPA has worked with six municipalities on discrete projects that aim to foster transit-oriented development, diversify housing opportunities and create safer, more walkable environments and downtowns across the County. This report provides a detailed analysis of both the outcomes and lessons learned from RPA's work with each of these communities.
Individual Reports Discussed:
---
2016
TOD
Developers have broken ground for Copiague Commons, a $33.5 million, 90-unit affordable apartment project that local officials say will spark a resurgence of the hamlet's downtown.
Economic Development
Long Island Industrial Development Agencies granted $125 million in short-term incentives that has leveraged $12 billion in private capital investment and the creation or retention of over 100,000 full-time jobs.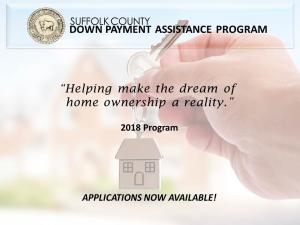 The Suffolk County Affordable Housing Program awarded more than $283,000 in Down Payment Assistance funding to 27 recipients. Since the program was first established in 1993, nearly $14.6 million in assistance has been provided to 1,734 Suffolk County residents and families.
County Executive Bellone approved an amendment to the 2016 capital budget appropriating the proceeds from the issuance of $6.5 million in Suffolk County Serial Bonds to the Jumpstart Suffolk program. Jumpstart Suffolk is designed to enhance the planning, development and construction of mixed-use transit-oriented development as well as light industrial and commercial areas in and around downtowns or transit. $1.5 million is slotted directly for infrastructure improvements to support Phase I of the Ronkonkoma Hub development.
---
2015
TOD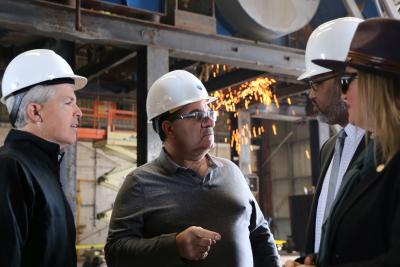 Suffolk County Executive Steve Bellone and other local officials attended the ribbon cutting ceremony for the two recently-completed buildings at Station Drive in Wyandanch Rising – the first major transit-oriented development created on Long Island. The majority of the 177 units in the two buildings are designated as affordable housing and are just steps away from the Wyandanch LIRR station and a new 920-space parking facility.
Michael Butler's Woolworth Apartments ribbon cutting ceremony in downtown Riverhead marked the grand opening of the second of three affordable apartment complexes there. The complex with its 19 apartments was built on the second floor of the former Woolworth building which had been vacant since 1997.
BRT
Parsons Brinckerhoff was awarded a contract by the Suffolk County Department of Economic Development and Planning to conduct an Alternatives Analysis for Nicolls Road. The study is focused on advancing Suffolk County Executive Steven Bellone's vision — as documented in the Connect Long Island Plan — of integrating transportation improvements and land use policy to unleash economic development potential for sustained, long-term economic growth
The Route 110 Corridor located in the Towns of Babylon and Huntington is one of the key economic engines on Long Island. Also known as Long Island's "High Tech Main Street," the Route 110 Corridor employs approximately 10% of the Island's workforce and is home to corporate headquarters, major technology firms, educational institutions, research facilities, and retail centers. The Route 110 Alternatives Analysis provides the process and framework for advancing the Route 110 component of the Connect Long Island plan by evaluating a range of route and modal alternatives for a new, high-quality transit service. The grand vision for Route 110 features a multi-modal, pedestrian-friendly Corridor anchored by transit-oriented development (TOD).
---
2014
I-Zone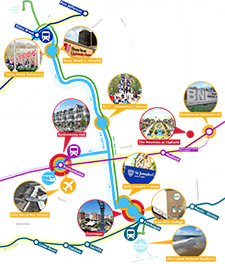 A new life sciences building at Suffolk County Community College's Ammerman Campus in Selden will feature state-of-the-art educational technology and provide a platform for increased student research through hands-on education and active learning, said college officials who took part in a gala ribbon cutting with students, state and local officials, faculty, staff and administration to dedicate the building today.
BRT
Suffolk County Executive Steve Bellone announced a new $1.5 million grant from the New York State Energy Research and Development Authority (NYSERDA) to be used toward planning, design and construction of a Bus Rapid Transit (BRT) system along Nicolls Road, which will connect from Stony Brook University to Patchogue Village. The Suffolk County Legislature voted unanimously to accept the grant.
A new study shows Suffolk County Executive Steve Bellone's plan for north-south rapid-bus corridors, linking downtowns, businesses and research centers, is viable. The $300,000 federally funded study calls for rapid-transit routes along 15 miles of Nicolls Road from Stony Brook University to Patchogue, and on 15 miles of Route 110 from Amityville to Huntington. It also recommends a rapid-bus route along 17 miles of Sagtikos Parkway from Kings Park to Deer Park contingent upon the building of the Heartland Town Square development in Brentwood.
---
2013
TOD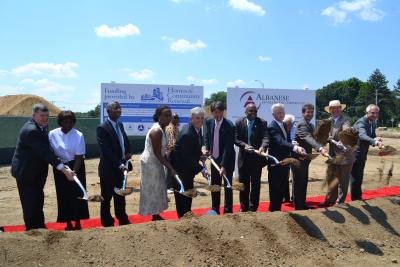 Wyandanch Rising Ground Breaking
Babylon Town officials along with county and other local officials and developers broke ground today on the Wyandanch Rising project, a new 40 acre, $500 million transit-oriented development being built on Straight Path and Long Island Avenues in Wyandanch featuring mixed use residential and retail buildings. This project was nearly a decade in the making and officials say it's a major revitalization effort for Long Island.
BRT
Armed with $600,000 in funding provided through the New York Metropolitan Transportation Council (NYMTC), Suffolk County has issued Requests for Proposals (RFP) for two studies that will provide the foundation for advancing County Executive Steven Bellone's "Connect Long Island" initiative. The "Connect Long Island" initiative aims to create new mass-transit connections between major roadways, Long Island Rail Road stations and transit-oriented downtowns to relieve traffic congestion, increase mobility, and spur economic growth.
The Suffolk County Legislature adopted a resolution that will provide the county over $320,000 in New York Metropolitan Transportation Council (NYMTC) funding to study potential Bus Rapid Transit (BRT) routes in Suffolk County. Funding for a BRT feasibility study will allow the County to analyze the potential economic, sustainability and community benefits that BRT could bring to all Long Islanders.
Economic Development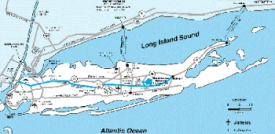 "'Connect Long Island' is becoming a national model for creating economic growth", said the Long Island Contractors Association (LICA). Making use of existing assets, such as world-recognized educational and research facilities and major infrastructure improvements, including the LIRR Second Track, "Connect Long Island" – a strategic blueprint for economic growth crafted by Suffolk County Executive Steve Bellone – breaks down the isolation these economic incubators operate in and links them through comprehensive planning. Its success is expected to serve as an example for similar efforts on Long Island and elsewhere.
---
2012
After months of meeting with business leaders, officials at all levels of government and regular families, Suffolk County Executive Steve Bellone announced his economic development plan to create jobs and tie together projects taking place throughout our region. Bellone's plan lays the groundwork for long-term economic growth in Suffolk County as well as the Long Island region.
Bellone's "Connect Long Island" plan complements Suffolk County's assets, such as world-class educational and research facilities and major infrastructure improvements in the pipeline, including the Second Track, by emphasizing the need to connect vibrant downtowns, allow for improved North-South transit connections and create opportunities for innovation companies to locate and grow in Suffolk County. Bellone announced that coordinating the efforts of all levels of government, research institutions and the private sector to implement this plan will be the top priority of the Suffolk County Department of Economic Development and Planning.
---